Arvesta opens new headquarters in the presence of Prime Minister Alexander De Croo and Mayor of Leuven Mohamed Ridouani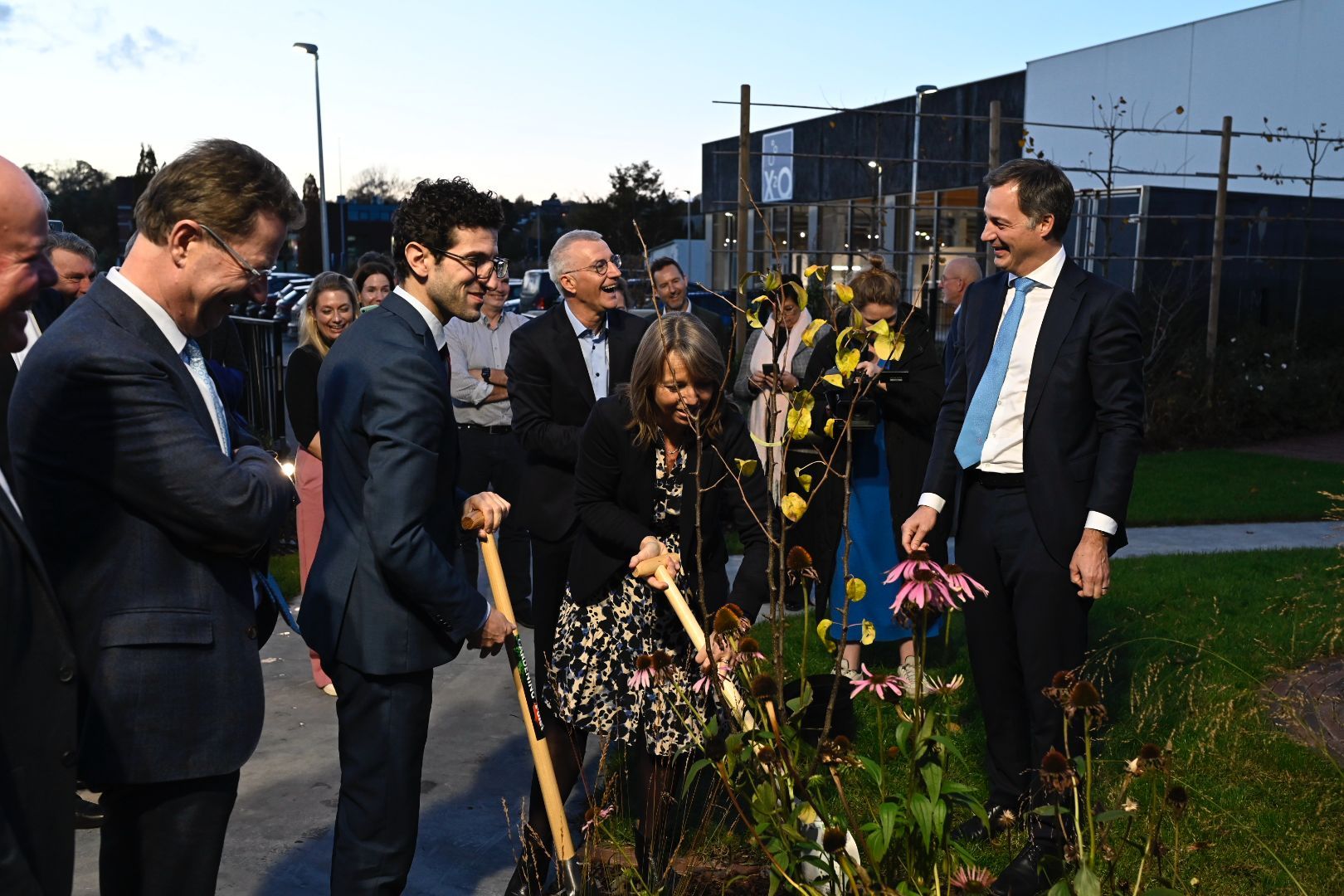 On 15 November, agricultural expert Arvesta proudly inaugurated its brand new headquarters, located on the Aarschotsesteenweg in Wilsele. This festive opening took place in the presence of Prime Minister Alexander De Croo and Mohamed Ridouani, Mayor of Leuven.  
Arvesta moves from the Philipsite in Leuven to its own building on the Aarschotsesteenweg, which houses Arvesta's 33,000 m² logistics distribution centre as well as the country's largest Aveve shop and also its flagship shop. ​ ​ 
Prime Minister Alexander De Croo: "Sustainability and sustainable agriculture are high on Arvesta's agenda. It is your mission and passion. As a result, our farmers will also be one step ahead of their colleagues. Innovative solutions to ever-changing challenges ensure that farmers and horticulturists today grow their crops efficiently and with respect for our planet. I am convinced that innovation can also be a huge asset for agriculture, just as it is for our industry."
"Arvesta has solid roots in Leuven, they are at home here," says Mohamed Ridouani, mayor of the city of Leuven. "Bringing together the new headquarters, its largest retail affiliate and distribution centre on the same site along the canal will only make Arvesta's visible presence stronger. Moreover, as a founding member of Leuven 2030, Arvesta is one of the key partners in our mission towards a climate-neutral Leuven by working together on local sustainable agriculture and horticulture." 
Climate-friendly building  
"We built our new headquarters on the site where one of our first Aveve shops stood in 1970 and where our Retail department later moved in. It therefore feels a bit like coming home, alongside our other Arvesta colleagues in the distribution centre and our shop," said CEO Eric Lauwers. ​ ​ ​ 
As for the new headquarters, Arvesta opted for a thorough renovation in which only the foundations remained. Apart from the fact that plenty of light, air and space were provided, this building has extensive roof and wall insulation. A heat pump provides heating, 40,000 litres of rainwater are collected, and the building uses the same electrical circuit as the adjacent climate-positive logistics centre. In this way, the head office can make use of the 2,000 solar panels on the roof of the distribution centre, which has been completely climate-neutral since 2013 using heat pumps, solar panels, LED lighting and the planting of a green zone. 
Strong employer ​  
Arvesta employs a total of 2,300 Experts in the field, many of whom operate from the site in Leuven: 350 employees are linked - via hybrid working - to the head office, 95 employees are active in the distribution centre -where some 35 trips to Aveve shops leave every day, accounting for 400 shipments per week - and some 20 employees in the Aveve shop next door. This makes Leuven one of our main hubs, alongside several others in Belgium but also in the neighbouring countries of France, the Netherlands and Germany. ​ ​ 
In the future, there is only room for sustainable agriculture  
It was important that this would be a climate-friendly building.
"Because sustainability is in our DNA and is our licence to operate," continues Eric Lauwers. "Today there is only room for sustainable agriculture and that is the agriculture we are building at Arvesta, together with our farmers and horticulturists. Moreover, every innovation we bring to the farmer and horticulturist is not only sustainable but also profitable. In this way, we demonstrate that ecology, economy and technology do go hand in hand. And that's how we bring agriculture to a sustainable model." ​ ​ 
Plea for a level playing field  
Eric Lauwers definitely wants to make a case for Belgian farmers and horticultists.
"They are best in class because they market products of the highest quality, while paying attention to food safety, traceability, animal welfare and our planet. For example, our farmers ensure that CO2 emissions per litre of milk or kilogram of meat in Belgium are among the lowest in the world." ​ ​ 
Yet we continue to import food products from countries that do not apply the same standards. We even import products from Mercosur countries such as Argentina, Brazil, Venezuela, and Chile that use phyto-products that are banned here. However, food products from these countries are massively offered at our retailers and no one is concerned about the impact on consumer health. Even within Europe, the rules of the game are not equal. A level playing field is therefore urgently needed. ​ ​ 
We keep believing in Belgian agriculture and horticulture  
Arvesta continues to believe firmly in Belgian agriculture and horticulture. Because it is among the best and most sustainable in the world. Hence the agricultural organisation has drastically increased its investments in the agriculture of the future, making no less than 275 million € of long-term investments between 2021 and 2025. 
Eric Lauwers: "This high amount in a sector with particularly thin margins shows that Arvesta believes in the agriculture of the future. Let's bring together economics, ecology and technology to promote productivity as well as agricultural sustainability thanks to precise agriculture."